Accolades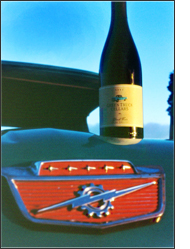 "These [2009, 2010, and 2011] are three delicious Pinots from Road 31 and proprietor Kent Fortner. The Road 31 Pinots are aged partly in Hungarian oak, which adds a distinctive layer of spiciness."
--Robert Parker's Wine Advocate, Feb, 2013
"Road 31's 2011 Pinot Noir impresses for its delicate, understated personality. This is an absolutely goregous wine, especially in the context of a vintage that was full of challenges."
--Robert Parker's Wine Advocate, February 2013
"The 2010 Pinot Noir is laced with freshly cut flowers, cinnamon and sweet candied cherries. The 2010 stands out for its layered personality and long, creamy finish."
--Robert Parker's Wine Advocate, February 2013
"Juicy dark cherries, flowers, cinnamon and tobacco all flow from teh 2009 Pinot Noir, a wine that impresses for its depth and mid-palate juciness. This attractive Pinot should continue to deliver considerable pleasure over the next handfull of years."
--Robert Parker's Wine Advocate, February 2013
2007 Road 31 Pinot Noir Napa Valley ... toasty oak, good structure and balance; Complex, interesting flavors mark this Pinot -- it's great. 92 pts."
--The Pinot Report, January 2010
"2007 Road 31 Pinot Noir ... soft and smooth in the mouth leading the wine to literally slip off the back of the palate. A juicy and seamless wine that is nicely crafted and well-priced. Too good for the dog."
--PinotFile Newsletter, September 2009
"Each of the past three years, Fortner and his green 1966 Ford pickup have turned out a tiny batch—500 to 700 cases—of Pinot Noir that has garnered accolades and a mailing list of rabid fans, endearingly called "truckers." His one-man operation is the epitome of specialty small-batch winemaking."
--Men's Journal, "Napa's New Breed," October 2007.
"Kent Fortner really does drive around Napa Valley in a nifty green truck that was willed to him by his grandfather. With each passing vintage, Kent's limited-production Pinot Noir becomes more and more sought-after. Underneath his attention-grabbing label is an extraordinary delicious Pinot Noir. This year's season has amplified the wine's typical juiciness, making this Kent's most seductive bottling to date."
--Wally's Wine World Newsletter , June 2007.
"This wine walks the walk (or should I say rides the road). The pretty ruby color draws you in. The sexy nose offers up dark cherries, roses, nutmeg, and toasty oak. Flavors of cherries, cinnamon and vanilla are luscious enough to nibble on. The wine finishes with a sexy candied cherry kiss that lingers. A beautifully balanced wine with sensual creaminess that only Pinot Noir can offer. Pinot Noir All-American 2006"
--PinotFile Newsletter, December 2006.
"This smooth, slightly fruity, mysterious, musty-yet-bodacious wine is perhaps…one of the finest samples to date of what the region can produce."
--North Bay Biz Journal, July 2006.
"The nose is full of soft, red cherry with luscious creamy bits of vanilla and cola spice. On the palate there is well-formed acidity wrapped around the smooth loamy black cherry flavors. 91 pts."
--Vinfolio, July 2005.
"One man show Kent Fortner has, in a few short years, established a loyal and thirsty following for his rare Napa Valley Pinot Noir. Sourced from the Nord and Suscol Ridge Vineyards—the southernmost and coolest in the Napa appellation (even south of Carneros!)—[the wine] gives a clear voice to what Kent refers to as 'the prettier side' of Pinot Noir. And, yes there really is a Green Truck..."
--Wally's Wine Newsletter, June 2005.
"Medium-deep ruby purple color; spicy, earthy, herbal notes with…toasty oak, good structure and balance; long finish. This Pinot has some deliciously complex flavors and just enough structure and tannin to balance it out. 92pts"
--The Pinot Report, June, 2005.
"His [Kent's] hand-crafted Pinot Noirs merit a try…big bodied, ruby-garnet wine with aromas of complex earthy black cherries and roses. Well balanced with a wonderful velvety taste and a long finish. 93 pts."
--Patty's Pinot Closet Newsletter, March 2005.
"Here is a local Napa Valley Pinot Noir that makes a statement…This wine delivers its characteristic Pinot Noir nose, but carries an inimitable easy body…this Pinot ranks with many of the finest from Burgundy and Oregon…true Pinot lovers will go gaga over this wine."
--Bob Ecker, "Napa Valley Bargain Wines," Novus Vinum/Gayot Travel Guides, Octpber 2004
"This swill is GOOD!" "
--Cousin Bob, every Friday.