Mailing List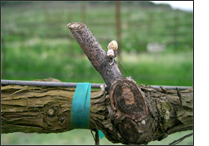 So you want to be a trucker? Upon release in March, first crack at the release is given to the truckers: those on the mailing list. At that time, you will be notified how to go about getting your hands on some of "da Truck." (Ordering is done, at that time, through this website).
Occasionally, I'll have a little stash of wine saved back, or I am holding some wine for a restaurant that is a little slow in paying, and there will be wine available later in the year. I see all mail-list sign ups, so please do inquire, via the "notes," if you are interesting in purchasing wine outside of the release window. Also, I'd also love to know how you found me.
As far as how often I contact folks, the offering letter goes out mid-March via both snail mail and e-mail. I also typically mail out an update in Fall. If I happen to be doing a tasting in your area, I'll sometimes e-mail those Truckers that live in the vicinity. Besides that, I believe in being respectful of the access you are granting me to your inbox and mailbox...