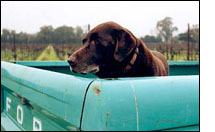 Road 31 Wine Co.
Welcome to Road 31 Wine Co.
The label pays homage to a classic, rural, gravel road back in Kansas, my proud state of origin: Road 31 runs by both my maternal and paternal family homesteads (yup, my parents grew up on farms just a few miles from one another). The '66 green Ford pickup, which traveled Road 31 frequently, was willed to me by my grandfather, a proud Kansas farmer, when he passed back in the 1980's. The green truck and I now tend a handful of select rows from three extremely gifted vineyards at the southernmost reaches of Napa Valley. The truck and I harvest to cave space borrowed from some friends in the Stag's Leap district, where my hands then perform every step of the crafting: tiny-batch fermenting, barrel aging, bottling, and eventually, peddling.
I'm a tiny, one-man show, and I like it that way. I deliver in the green truck itself whenever possible.
In the end, I blend and cull to craft roughly seven hundred cases of only one wine: Road 31 Napa Valley Pinot Noir. First crack at the vintage is given to the "Truckers" (those on the mail list) with a small portion of each batch reserved for select restaurants.
I can say with confidence that reading about a wine is not nearly as good for your soul as drinking one, but nonetheless I've tried my best to write the story of the wine into these pages. And, the "Letters" section is an archive of my release and update letters.
I don't know how you found me, but I'm glad you are here. If you like what you read (or have already tasted), sign up for the mail list as I'd love to have you as part of the road trip.
Keep on truckin',

Kent Fortner
Winecrafter/Truck-owner