About Kent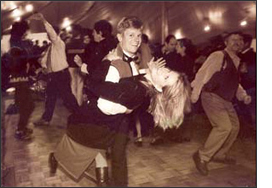 I love this picture of us. For one, it is taken in our slightly younger years. Two, it gives the illusion that my wife Janet and I are good dancers (pure illusion, I assure you). Finally, I particularly like the guy in the background, doing the twist.
As for my background, I think I've mentioned already that I hail from Kansas. Despite being from a mostly Baptist/teetotaling family, I got hooked on wine during my first restaurant job at the age of fourteen. After studying English and Physics at William and Mary in Virginia, I "based" myself out of Jackson Hole, Wyoming (read: skied, climbed, and waited tables); ran a wine bar and wine shop in Boise, Idaho; worked a season with a fishing boat and cannery in Seward, Alaska; and traveled/climbed extentively for a time throughout Alaska, Nepal and Thailand (I tried to get my mid-life crisis out of the way early). In 1996, I landed in the remote Gavilan Mountains, east of Monterey, to start work in winemaking for Chalone Vineyard and to rock climb at Pinnacles National Monument nearby.
Chalone is where I met Janet; she was a park ranger at Pinnacles. We were in front of the green truck in Jackson Hole when she graciously accepted my marriage proposal (I owe it all to the truck).
Some wine sojourns worth mentioning are the harvests I did in South America (in between harvests at Chalone). I worked with Kendall Jackson's projects down there: Vina Calina in Chile and Tapiz/Mariposa in Argentina. I once calculated my wage to be 81 cents/hour during that time, but it gave me the opportunity to experience winemaking "in the trenches." It's amazing how useful duct tape can be.
Two fantastic job offers came along, giving Janet and I the opportunity to move to Napa. Luna Vineyards, which was just a fledgling winery at the time, asked me to come work with them as they grew. They also generously provided a crush pad for the first vintage of my wine. As for my dance partner Janet, she got offered a position with the Marin Humane Society, where she worked tirelessly to save the companion-animal kingdom (a life-long cause for her). In 2004, I stepped away from Luna to focus fully on Road 31, and RJ left the humane society to focus on our latest endeavors: Owen Fortner, born January 2005; and Lila Fortner born March 2008.
So if you come to visit, you are likely not only to get a glass of grin-inducing Pinot Noir, but also be prepared to entertain a rescued cat on the couch next to you, a dog at your feet, and two highly-energetic kids waving toy light sabers at you.