Caves (Visit)
---
"Supple, seamless, sexy and pure style. Kirsch, black raspberries, spice box, dried flowers and incense notes all emerge from this fresh, balanced, silky wine that's ideal for drinking over the coming 5-6 years. 93 pts."
--Jeb Dunnuck
---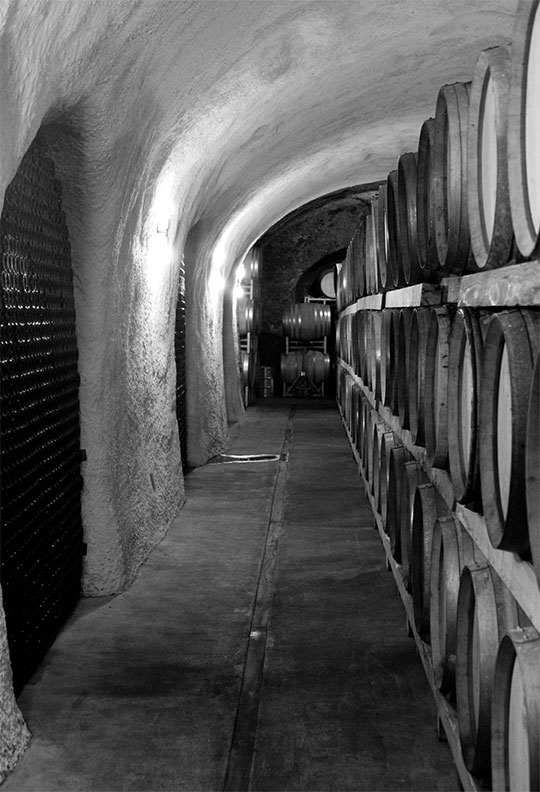 Beyond the perfect temperature and humidity for wine storage, crafting wine in a cave is a transcendent experience. Harvest hours are already a blur, and then you're working in a cave, where the light and temperature never change, and no windows are to be found, it borders on sublime. I do believe the caves are another way that the earth finds its way into my wine.
The caves where I craft wine aren't my own. They are the property of this really fantastic family that has farmed and made wine since 1977 in a little hanging valley above the south end of Silverado Trail. And the property itself is even more historic—it is the site of beautiful vineyards and one of the original wineries of the Napa Valley (now a house) dating back to the 1870's.
In earlier years, I played soccer with the two sons of the family (it was an all-Napa-winery-workers team, labeled a "drinking team with a soccer problem"), and at practice one night, those sons announced that they had some cave space to rent. Well, the left fullback, the goalie, and the right wing and I (center halfback), each with our own fledgling wine projects, banded together to rent out the back half of the caves. That was nearly twenty years ago, and the caves are still my home.
Visit
I'm afraid visiting Road 31 isn't straightforward. The wine is allocated, so there isn't any for sale during the year. The caves aren't designed to be open to the public. Moreover, I'm a one-man band, and when I'm not around, well, neither is the music. But … I do really enjoy hosting Truckers and tasting through barrels when schedule allows.
If you are visiting the southern Napa Valley, and want to taste, please contact me and we'll do everything we can to try and set up a time. Email me here.