Vineyards
Beautiful vineyards produce beautiful wines. At first glance, this may seem mere poetry, but there is some logic and science behind such a statement. Vineyards with rock or red soil are obviously more visually stunning than just plain brown dirt … and it turns out that rocky vineyards have more complex root structures contributing to more complex wines, and iron (red) in soils is key to berry health, particularly in red wines. It is nice to have a vineyard with a view … and that slight elevation gives a vineyard better drainage and thus an earlier bud break and a longer, more flavorful growing season. People love to be able to see the ocean … and that wind, fog, and marine influence create perfect growing conditions for Pinot Noir.
---
"One man show Kent Fortner has, in a few short years, established a loyal and thirsty following for his rare Napa Valley Pinot Noir. Sourced from the southernmost and coolest vineyards in the Napa appellation (even south of Carneros!)--this Pinot gives clear voice to what Kent refers to as 'the prettier side' of Pinot Noir. And yes, there really is a green truck."
--Wally's Wine Newsletter
---
Although I only craft one wine, it is a blend of two vineyards, with two vineyards blocks at each site. These different sites, all within two miles of one-another, guard the southern "gateway" of Napa where the cool breeze and fog from San Francisco Bay gets channeled into the Napa Valley itself. The vineyards I pull from then have their own individuality, but they all fall within this little corner of Napa that has perfect conditions for Pinot Noir. Cab doesn't stand a chance down here.
I don't own these vineyards—the dirt itself costs a digit or two more than I'll probably ever be able to afford—but I have extremely long contracts with each (which is not an unusual arrangement in Napa). In fact, I have my own particular rows, farmed according to my instructions. I tend to the vines as often as needed, and then some.
An old saying goes, "the best fertilizer for a vineyard is the winemaker's footprints." So true. Although, with me it is also a tire print from the truck. I harvest from these vineyards, and transport to the caves, where winecrafting commences.
---
Green Island
Located just off the water, a few dozen steps from where the Napa River spills into the San Pablo/San Francisco Bay, the Green Island Vineyard is a meticulously-farmed plot that John Kongsgaard turned me onto in 2000. It is cooler than the cool, as it lies more south—and therefore more exposed to the water, wind, and fog—than it's Carneros bretheren north and across the river. In fact, the vines at the far west end are incredibly stunted in their growth from the beating they take from the wind. While the overall vineyard is planted to many different selections of Pinot Noir (as well as Chardonnay and Pinot Grigio).
I lay claim to two different blocks: an acre of clone 115 Pinot Noir sits on the leeward side of those wind-whipped vines and an acre of 777 that sits on the highest hill (if you can call it that, it is maybe 10 feet in elevation) on the north end. The Nords, a multi-generation Napa grape-framing family, own and tend this inspirational piece of dirt, and you couldn't find more honest, friendly, or experienced stewards of the land. As a low-land, slightly more vigorous site, it yields the prettier side of Pinot: cherry, cola, rose, and strawberry. The cool breeze allows the fruit to retain its acidity, forming a solid aromatic and acid backbone to Road 31 Pinot Noir.
---
Stanly Ranch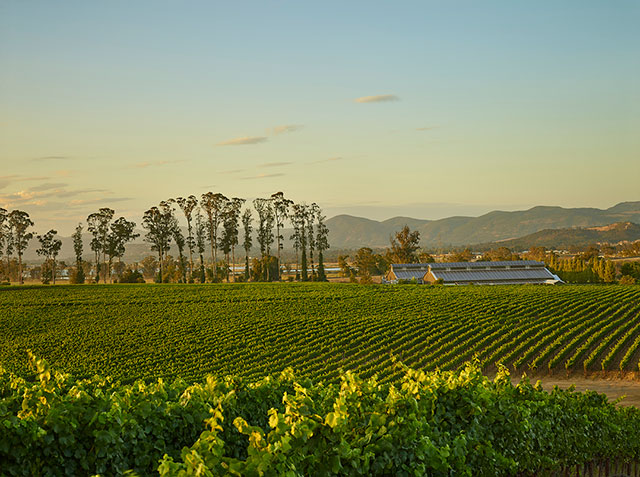 A historic vineyard, just a mile and a half across the river from Nord, the Stanly site lies within the Carneros boundaries. Saintsbury Winery pulls grapes from the block to the west of me, Acacia pulls the Pinot to the south, Cakebread pulls Chardonnay the block on the North, and to the east lies the Napa River and a view of Nord Vineyard.
My five rows of Pommard clone straddle the highest point on the vineyard, not far from the lone tree that was spared during planting because a golden eagle family inhabited—and still inhabits—its upper branches. From another eight rows of vines, slightly further down the hill, I lay claim to a block of clone 777, which provides dynamic aromatics. At this exposed vineyard, both wind and sunshine are plentiful. In general, the flavor profile of the wine from Stanly has friendlier acidity, and softer tannins. The first vintage of my wine to include Stanly was the 2004, and it has elevated every aspect of Road 31 Pinot Noir since.