About Kent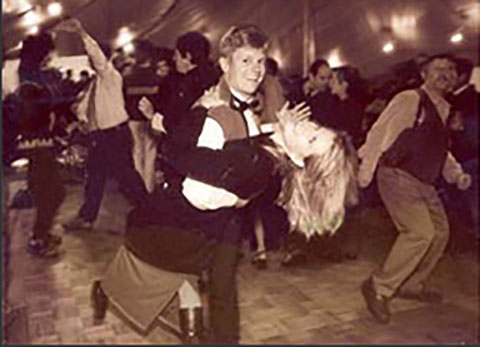 Check out the guy in the back doing the twist.
I love this picture of us. For one, it is taken in our slightly younger years. Two, it gives the illusion that my wife Janet and I are good dancers (pure illusion, I assure you).
As for how I got into wine…it's a funny thing. To some, it might seem like an unlikely outcome in life for a kid from a teetotaling Kansas farm family. But to me, the path seems quite logical.
I became the black sheep (albeit a still-loved black sheep) in my Baptist family during my first restaurant job in Kansas at the age of fourteen. Truth is, our family (see the family pic with my mom's sweet bouffant; that pretty much sums us up) hadn't really journeyed much outside of the Midwest when I first started bussing tables. Dusting, inventorying, and reading wine labels was the closest I could get to exotic travel.
---
"Road 31… impresses for its delicate, understated personality.
This is an absolutely gorgeous wine…"
--Robert Parker's Wine Advocate
---
No words can sum-up the 70's...
Cliff Bath, a legend in the Midwest wine scene (for years, his was one of the few Wine-Spectator-awarded restaurant in the heartland), took notice of my interest, and he would enthrall me with story after story of wines from Bordeaux, Tuscany, Napa, Alsace, Pirorat…and, of course, Burgundy. Eventually he (quietly) let me sit in on the weekly wine tastings with the restaurant sommeliers. I still vividly remember tasting Echezeaux from Domaine Dujac at one Friday tasting, after soccer practice and before my banquet shift started: the wine was an epiphany that motivates me to this day. At the risk of bragging, I think I may have had, at the time, the best wine palate of any 15-year-old in all of the Midwest.
For college, I set off (away from Kansas) to the College of William and Mary in Virginia to study English and Physics, funding the whole thing with restaurant work, which meant more and more wine. Determined not to grow up too quickly after graduation, I spent a bunch of disjointed/awesome/dirtbagging years in Jackson Hole, Wyoming where I skied, climbed, and waited tables for probably a million people, selling wine to as many as I could. I ran a wine bar and wine shop in Boise, Idaho. I worked a season with a fishing boat and cannery in Seward, Alaska. I traveled/climbed for a time throughout Alaska, Nepal and Thailand (I like to say I got my mid-life crisis out of the way early).
In 1996, I landed in the remote Gavilan Mountains, east of Monterey, to start work as a winemaking intern for Chalone Vineyard, partially because I really wanted to learn winemaking, and also because the assistant winemaker there was an avid climber and needed a rope partner for his adventures at Pinnacles National Monument nearby. That harvest was what really hooked me on winemaking. It was the first time my wanderlust, my restaurant work, my farming ancestry, and my inclination towards science all came together in a field, tank, and glass. It became a calling.
---
It's just old grape juice
Chalone is where I met Ranger Janet; she was a park ranger at Pinnacles next door, having just been transferred there from Yosemite. Not that long later, we were in front of the green truck, while traveling in Yellowstone, when she graciously accepted my marriage proposal (I owe it all to the truck). As married couples tend to do, we eventually produced a couple kids (Owen and Lila), who—despite our best efforts—seem to be turning into well-adjusted little humans. Also, RJ's soul has always been with the animal kingdom, working for the Humane Society over the years, so we have an ongoing parade of down-on-their-luck animals who have found new life (and nirvana) under our roof. Between her heavy lifting on the kids and saving the animal kingdom, RJ does the important work.
I've worked so many different wineries since that first job. I was really boostrapping (both personally and professionally) during internships with Kendall Jackson in Chile and Argentina (you really can make gaskets for your bottling line out of duct tape). I worked at various times and in various capacities (sometimes brief consulting stints, but even those help you peer behind yet another curtain) with Acacia, Carmenet, Edna Valley Vineyards, Canoe Ridge, Sagelands, Halter Ranch, Jada, Signorello, Gundlach Bundchu, Obsidian Ridge, Poseidon Vineyard…and a half-dozen more. Each taught me something new. I also went back to UC Davis to hone my viticulture knowledge.
I was working for Luna Vineyards in Napa in 2000 when I dumped our life savings (meager as it was) into my first two barrels of Pinot Noir. When I told my peers I was going to go off on my own, as a one-man show, making one Pinot Noir and one Pinot Noir only, and it was going to have a green truck on the label…well, they told me I was nuts. And for those first two years, while I pumped more of our life savings into barrels of wine and waited for them to mature so I could sell them, I pretty much agreed that the whole thing was a little nutty.
---
The ultimate man cave
When my first wines were released back in early 2000's, two things happened. For one, the wine was well received by critics and customers alike. Secondly, the movie "Sideways" came out, and along with it, a huge jump in the awareness of Pinot Noir. I like to think it was the former (my winemaking acumen) that gave me my start, but I can't discount the power of the big screen. Regardless, people quit calling me nuts, though in truth, I was no smarter nor crazier than I was when I picked my first grape. I don't know if timing is everything…but it certainly matters.
That started this amazingly fulfilling annual cycle that continues to this day, for me, year after year. There is an incredibly loyal group of Pinot-loving "Truckers" out there, and when they get notification of their allocation every spring, they pounce on it. I get to do what I love, and part of that is joining the Truckers' dinner tables in liquid spirit when they pop a cork. And while harvest work is intense to be sure, there are other large chunks of the year's cycle where the barrels are just sitting in the cellar, and I'm just tasting them with the occasional visitors to who call and ask if they can meet up
---
Grape and Grain...
Given the relaxed part of the wine cycle (and the fact that college for the kids is expensive), in 2013 I embarked on a new (ad)venture, in partnership with another winemaking friend of mine, which involved a leap from grape to grain: www.mareislandbrewingco.com. Yup, beer…and some cool history. I'd be honored if you'd check that out too.
If you got this far, thanks for reading. I'm always surprised anyone cares.